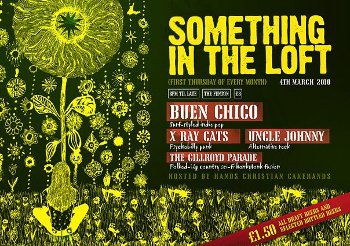 More short notice giggery. We're back at The Fenton this coming Thursday (4th March 2010) at Something in the Loft with Uncle Johnny, X-Ray Cats and Buen Chico. Should be a hoot. This time we'll be playing at the more civilised time of 8ish.
Upstairs at The Fenton
161 Woodhouse Lane, Leeds, LS2 3ED

Here's a larger version of the poster and the Something in the Loft Facebook group.
UPDATE: Cracking evening. See gig page for more info.