Pleased to announce we've booked out The Packhorse again for a mid-december hoe-down.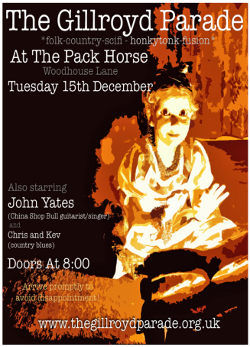 Tuesday 15th December 2009
The Gillroyd Parade Winter Warmer
The Packhorse
208 Woodhouse Lane
Leeds
LS2 9DX
Doors at 8:00
arrive promptly to avoid disappointment!
Come all ye faithful, faithless and faith-inbetweeners to a night of Gillroyd Parade hosted music. Starring The Gillroyd Parade (natch) and also featuring the irrepressible and irresistible John Yates plus other guests to be announced later. I may even dig out that Guthrie song about children being crushed under a christmas tree (nah, not really).